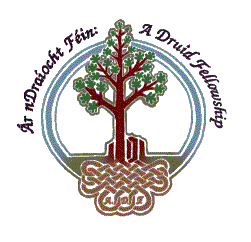 We are a Celtic Druidic Grove. Located in Crystal Lake, Illinois, in McHenry County, northeast of Chicago, our Grove serves Lake and McHenry counties in Illinois and southeastern Wisconsin, as we are so close to the Border. We are sanctioned by ADF and have tax-exempt 501c3 status. Our inception date was July, 2001, and our first ritual was in August, 2001.
We welcome anyone with an interest in Earth-centered spirituality and anyone following the Druidic ways. We offer an ADF Dedicant's Program study group and will be offering other classes in meditation, journeying, creating altars, tree identification, and finding your totem animal in the near future.
We hold rituals on the eight High Days (see our Events Page). The meeting place for the ritual changes, but weather permitting most rituals are done outdoors. Afterwards we have a potluck dinner or BBQ.
Would you like to show your support for Raven Wood Grove? Check out the Grove Support on Amazon